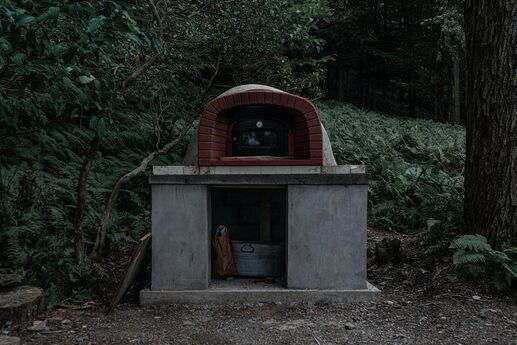 For nearly a decade, Scott and Pam Condron grilled dinners on an old gas barbecue crammed onto the deck of their Armonk, New York home. "It smelled and looked like it was going to fall apart," Pam says of the venerable Weber, "but it served our needs."
When the Condrons' children entered their teen years, the couple decided they wanted to do more outdoor entertaining, so they hired Clement Butt of Classic Garden Design in Weston, Conn., to install an expanded outdoor kitchen equipped with a built-in grill, side burners, storage cabinets and broad slate counters.
"Inside cooking seems like more of a job," Pam explains. "Outside, it's more like vacation."
A growing number of Americans are discovering the joys of backyard cooking, and grill manufacturers are responding with an avalanche of stainless-steel behemoths that could stop a Hummer in its tracks — as well as refrigerators, ovens and patio heaters, all designed to make outdoor cooking as convenient as it is indoors.
Today's outdoor kitchen can range from a bare-bones operation — featuring a grill, sink and storage cabinet — to one that rivals its interior counterpart, with a refrigerator, warming drawer, icemaker and even a dishwasher. Not surprisingly, the price may vary, too, from $2,000 or $3,000 for a basic setup to 10 times that amount for a fully equipped kitchen outfitted with a full range of gadgets, a custom-designed masonry surround, dining counter and overhead shelter.
Lest you suspect this is simply another case of "boys and their toys," think again. According to the Hearth Patio & Barbecue Association, more women are getting involved in outdoor cooking than ever. After all, why should cooking outside be any different from doing it inside?
While it's possible to cobble together an outdoor kitchen from individual components, some companies sell self-contained islands equipped with a grill, side burner and refrigerator, so you can get everything you need in one convenient package. For greater flexibility, consider a modular system, or work with an architect, designer, landscaper or contractor to custom-design a setup that will incorporate the features you want and harmonize with the landscape and architecture of your home.
Brick cabinets are a natural choice for brick houses, while stucco suits Spanish-style architecture. Many homeowners cover their cabinets in stone, even though the material doesn't appear on their house. In those instances, Clement Butt likes to apply the stone to the house's foundation, or uses it to create staircases or stoops, so the home and kitchen are visually linked. You can also install wood cabinet doors painted or stained to match the home's siding.
Though it might be tempting to one-up the neighbors by building a backyard bistro worthy of Wolfgang Puck, most experts agree that bigger is not necessarily better. "Keep it very simple," advises Chicago-area architect Paul Konstant. "If you think you're going to duplicate what you have inside, you're probably just wasting your money." Konstant says that while clients often fantasize about preparing elaborate meals outdoors and cleaning up there, too, most find they prefer doing both chores indoors, so he always locates the outdoor kitchen as close to the indoor one as possible.
For safety's sake, place grills away from swimming pools and areas where children may be playing. And if you want to keep the smoke in the food — and not on your friends –make note of which direction the prevailing wind is coming from. "You don't want the smoke blowing back onto your patio — you want it blowing off the patio and away from your guests," notes Butt.
If smoke control is still a problem, or the grill is situated in a semi-enclosed structure, consider installing a range hood overhead.