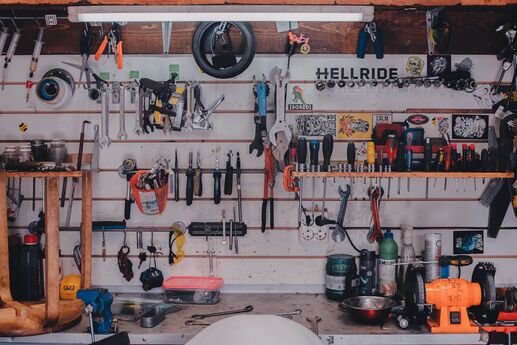 You've been thinking about your garage for a long time now. In your mind, you've been planning a transformation of the space into a workshop-slash-carport. Well, we're here to help you turn that dream into reality, as we walk you through the process of creating a double duty garage — part man cave, part parking spot.
Planning
It's important to speak to a professional electrician to determine what upgrades you might need to the electrical, lighting and ventilation systems based on the kind of workshop you want. In addition, you might want to consider having a slop sink installed. Not only will you be able to wash your hands, you'll also be able to wash tools, car parts and paint brushes, and keep harmful chemicals away from your living space. And remember, garages can get cold, so at the very least, you'll want a space heater or two.
You're going to need to see what you're doing, and run-of-the-mill garage lighting isn't going to cut it. Strategically placed fluorescent are a great option. But don't just put them on the ceiling — adding wall-mounted fixtures will greatly improve the situation.
For lighting on a tight budget, consider portable high-beam work lights (the ones on hooks) or flood lights on tripod-like stands. These can allow for bright, focused light, but their cords snaking along the floor can be dangerous. Be sure to keep them coiled up and stored away when not in use.
Clean House
If you're like most Americans, your garage is a storage space for more than just your car. It's time to clear out the boxes of junk, old Christmas decorations or clothing that hasn't fit you in decades. The most space you clear out, the bigger a workshop you can have.
After you've cleared the space of clutter, you'll probably notice a filthy garage floor that could use a good scrubbing. Now would be a good time to get out your bucket and scrub brush.
A heavy-duty grease-cutting cleanser diluted with water should do the trick. And don't forget the walls and ceiling. You might even consider a fresh coat of paint to freshen things up.
Maximize Storage
You're going to want as create as much practical storage space as possible so you can have a comfortable work space — and enough room to get in and out of your car. A great way to do that is to implement clever storage ideas — from modular wall shelving and hooks to hanging tools or bins from the ceiling.
Pegboards are a classic method for storing tools on walls. They're inexpensive and easy to install by yourself as a means of displaying your tools while keeping them within easy reach.
No workshop is complete without a workbench. Whether you build one yourself or buy one, think about a rolling workbench or one that folds up on the wall when you're not using it.
Installing cabinets above your workbench adds great extra storage for larger power tools. Consider plastic drawers or bins along with glass jars to keep smaller tools and hardware organized. Hint: recycle your peanut butter and jelly jars as a storage idea while being "green." Designing your own tool recycling station will help keep things organized and powered up for your next project.