Last week, your kids cooked a ball of aluminum foil to watch the fireworks, so this week you're in the market for a new microwave. Fear not, for we have the top considerations you'll need to make when choosing a new magical radio wave cooking box. Read on for our top tips, as you store the foil out of a child's reach.
Placement. Know where you are planning to place your new microwave oven. Was the previously fried unit in an ideal spot? Is it time for a new location that may open up some precious counter space? Countertop ovens are the most popular and affordable microwaves, but there are ovens designed for over-the-range placement or customized options for inside cabinets.
Most microwaves are 1-2 cubic feet in size, but here's a helpful, real-world tip: When you go shopping for a new one, bring a dish that you frequently used in your old microwave and stick it in the display models to gauge their relative sizes.
Features. Defrosting and reheating are the most common uses for microwaves, though many ovens come with presets for items such as popcorn and potatoes. Is that enough for you? Or do you want a microwave that offers convection or inverter cooking, browning, moisture detection technology or lighted LCD panels? Extra bells and whistles will cost more.
Power. Microwaves vary from 600-1,200 watts. Generally, the more wattage your microwave has, the more quickly and evenly it will cook your food. Be prepared to pay for higher wattage.
Price. This is a wide-ranging (and important) consideration, with some simple and small microwaves costing as little as $50-$75 and commercial-grade ovens going for $5,000. Unless you're a microwave chef (if such a profession exists) running a restaurant out of your home, your perfect oven is going to be somewhere in the $100-$400 range.
Here are some top-rated microwaves based on value, features and performance:
Panasonic (countertop), model #NN-SN661S, $159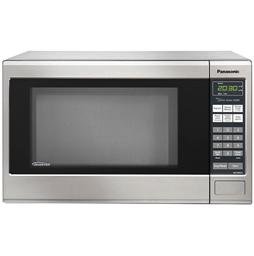 Specs: 1.2 cu. ft., 1200W, stainless steel
Features: Genius Sensor Cooking automatically sets power levels and adjusts cooking or defrosting times — the sensor measures the amount of steam produced during cooking and signals the microprocessor to calculate the remaining cooking time at the appropriate power level; Has a 'keep warm' setting.
This product has earned the Good Housekeeping seal of approval.
Kenmore (over-the-range), model #80323, $259
Specs: 1.6 cu. ft., 1000W, stainless steel
Features: A removable rack lets you cook foods on multiple levels at once; The 300-CFM ventilation system keeps air around the cooktop clean by removing smoke and cooking odors; The vent is hidden, which gives this oven a sleek look.
GE Spacemaker II (countertop), model #JEM25DMWW, $259
Specs: 1.0 cu. ft, 800 Watt, stainless steel
Features: This model is equipped with a kitchen timer; Has the option to turn the turntable off, which is useful for heating large dishes that cannot rotate all the way.
Frigidaire (over-the-range), model #FFMV162LB, $209
Specs: 1.6 cu. ft., 1000W
Features: Fits-More™ Capacity provides 1.6 cu. ft. of cooking space and will hold almost any dish — even a 13″ x 9″ baking dish — which is perfect for lasagna or casserole-loving families.