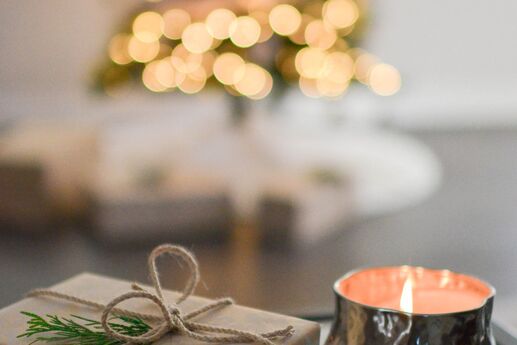 The holiday season brings a steady stream of house guests — some planned, some unexpected and some who never seem to leave. Now is the time to get your home ready for the siege, so you don't find yourself a few chairs short just before the big holiday meal or scrambling last-minute to locate clean sheets for the guest room. The following tips will help ensure that the only surprises you face this holiday season are the kind that come wrapped with a bow.
Child-proof. Are there young children on the guest list? Falling TVs, furniture and appliances cause more than 25,000 child injuries each year, according to the Consumer Product Safety Commission. Anchor furniture to walls and place TVs on sturdy, low bases.
If your home has multiple stories, install window guards on upper floors to prevent falls, or make these parts of the home off-limits to small children. And remember to check smoke and carbon monoxide alarms for the protection of kids and grown-ups alike.
Light the way. You don't want guests twisting an ankle on the way to the party. Install path lights to illuminate front paths; solar-powered fixtures are tempting given their simple installation, but low-voltage fixtures perform better and are fairly easy to install.
A ceiling or wall-mounted fixture near the front door will lead guests inside. It's worth spending more on LED bulbs, which cost more upfront but could last for decades. Remember to make your house number clearly visible for first-time visitors.
Check the table settings. Figure out how many guests could attend your largest holiday meal, and add 20 percent to cover last-minute additions (so if you're expecting 10, plan for 12). Make sure you have enough tables and chairs, as well as place settings, including dishware and linens. Plan to borrow, rent or buy items you're short on.
Freshen up the guest room. Put fresh sheets on the beds and clean towels in the bathroom. If the linens are clean, but haven't been used in a while, you can just pop them in the dryer for 15 minutes to freshen them up. Stock up on toiletries for the guest bath, including soap, shampoo, tissues and toilet paper. Small touches like a reading lamp and extra pillows and blankets will make your guests feel welcome and cozy.
Prepare an emergency stain kit. The holidays are filled with spills, so it pays to
stock up on stain fighters, including pre-treat sticks for clothing and other
washable fabrics. Keep acetone-based nail polish remover handy for lipstick
stains and 3-percent-strength hydrogen peroxide for cranberry sauce. Another
tip: to get candle wax off tablecloths, pour boiling water through the fabric
while wearing gloves.